Introduction
This briefing highlights the existing gaps in workplace mental health policy. It articulates the need to develop workplace mental health strategies to promote the mental health of all and ensure the early identification and treatment of mental health conditions across the EU and in Australia.
Mental health difficulties represent an important public health matter, affecting one in six people in Europe in 2016 (1), and the work environment has the potential to exacerbate poor mental health or positively contribute as a source of wellbeing (2). Mental health in the workplace has long been underestimated in most societies and by policymakers due to widespread stigma and preconceptions about mental illness (1). This neglect matters for two important reasons. First, mental ill-health in the workplace, particularly stress, burnout, depression, and anxiety, is common, affecting one in five European workers. Second, the social and economic costs of mental illness in the workplace are high for affected individuals, managers, and the EU economy (3.5-4% GDP) as a whole (1).
Small and medium-sized enterprises (SMEs) are the backbone of the EU economy and represent more than 90% of all businesses in the EU and Australia (3). SMEs, therefore, have huge potential for influencing population health on a larger scale. SMEs generally do not have comparable employee welfare and mental health resources to those of larger organizations, which warrants the development of accessible online mental health promotion tools that are easy to deliver and implement. Since most of adult life is spent in the workplace, SMEs represent an ideal setting for health-informed initiatives that promote mental wellbeing and design healthy environments.
Problem
A negative working environment can lead to physical and mental illnesses, harmful use of substances or alcohol, absenteeism, presenteeism, and lost productivity (4). Stigma and social exclusion of people with mental disorders are key factors in the under-recognition and low treatment rate of mental disorders in workplace settings (5).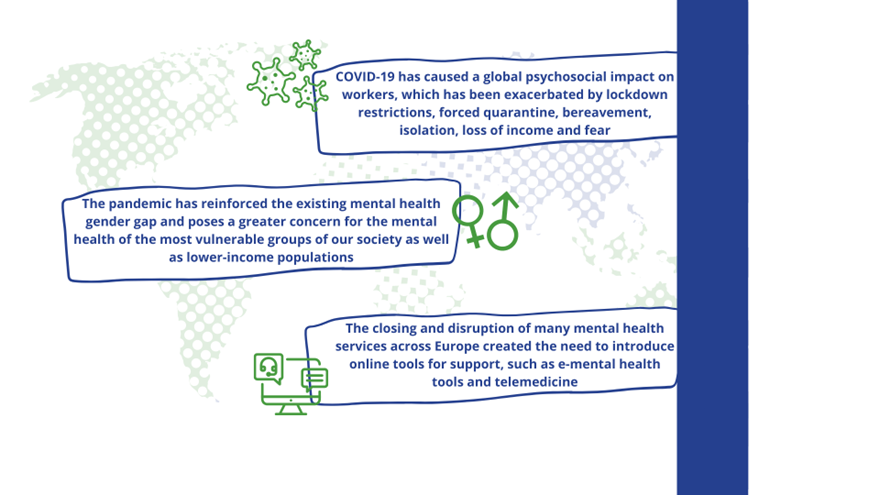 Solution
"Mental Health Promotion and Intervention in Occupational Settings", MENTUPP, is a four-year EU-funded project involving 17 partners and focusing on developing a multilevel intervention that can be successfully implemented by SMEs in the construction, healthcare, and Information and Communication Technology (ICT) sectors. The intervention addresses the following components:
Stress, burnout, wellbeing, and depressive symptoms (non-clinical),
Depressive disorders and co-morbid anxiety according to ICD-11 (clinical), and
Destigmatisation of mental (ill-)health.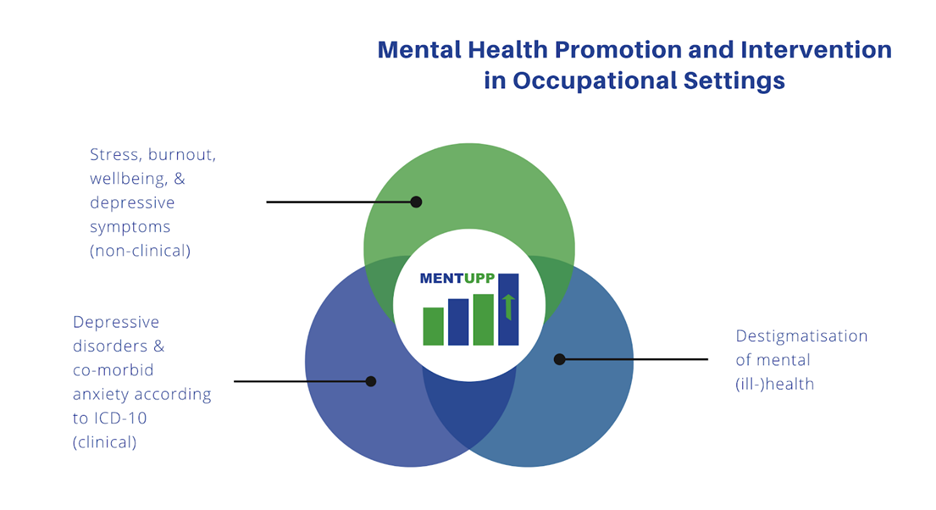 The MENTUPP intervention: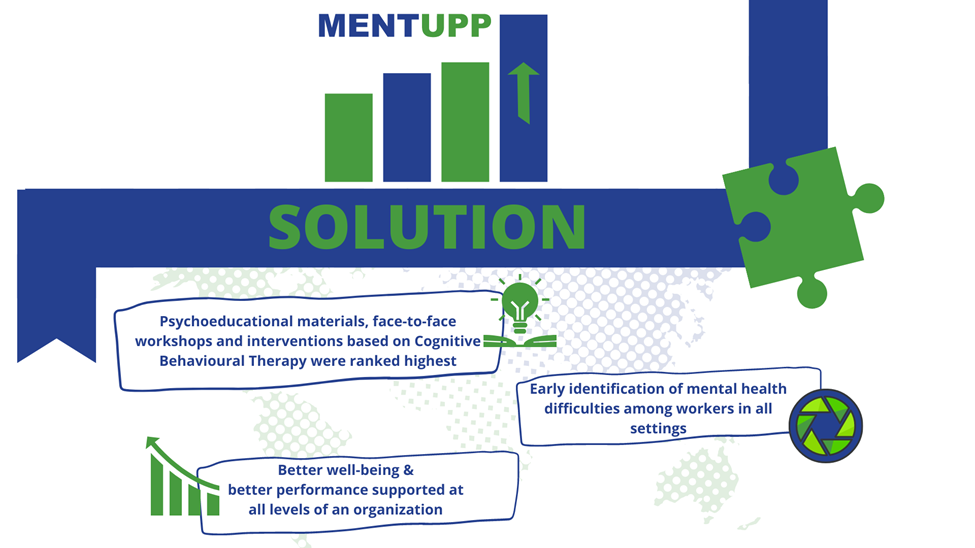 Provides information and tools that can help SMEs to promote wellbeing at work, creates supportive environments, and prevents and manages the mental health of staff;
Provides guidance for SMEs on how to identify employees with mental health problems, allowing SMEs to become active at an earlier stage and before severe conditions develop; and
Supports SMEs in creating mentally healthy workplaces, which have been found to be associated with less absenteeism and higher work performance.
The MENTUPP intervention is built on a solid foundation of evidence, which leverages extensive experience from partner European Alliance Against Depression's, four-level community-based intervention to improve mental health and reduce suicide risk in Europe, and partner Mates in Construction (MIC)'s successful workplace intervention to reduce suicide amongst construction workers in Australia (7).
The MENTUPP intervention is currently being tested in a Cluster Randomised Controlled Trial (cRCT) in SMEs across eight countries in Europe and Australia, looking at mental health outcomes, cost-effectiveness and implementation factors to establish a robust evidence base.
Policy and Legislation
The MENTUPP consortium disseminated a survey to a panel of experts in the field of mental health in participating countries to assess challenges and barriers of mental health in the workplace, existing preconceptions and stigma, and the potential rate of success of the MENTUPP intervention. The results of the survey highlighted that the lack of commitment from managers and supervisors to promote mental health in the workplace, existing stigma, time-management issues, and the lack of policy addressing mental health interventions in the workplace are key barriers that could affect the success of MENTUPP (8). Also, key differences between the construction, health, and ICT sectors emerged.
Governments play an essential role in designing policy and regulatory frameworks that foster mentally healthy workplaces and facilitates the access to effective treatments for employees in need. Many improvements in the management of mental health issues in the workplace have resulted from the adoption of top-down approaches, where legislative changes have occurred followed by targeted policy initiatives (9). A mental health regulatory framework for the workplace is a fundamental component in creating a healthy work environment and improving employees' mental health. Establishing this as a model for action for the future of work is key. Without a top-down approach, the lack of coordination and the possibility of fragmentation would reduce the impact of any mental health intervention in a future work environment.
Policy Recommendations
Based on the key findings of the expert survey (8), the MENTUPP consortium recommends to:
Initiate consultation with a range of government and non-government stakeholders;
Foster mental wellbeing of all employees and employers by reducing stigma related to and raising awareness of mental health conditions;
Encourage activities/initiatives in the workplace that promote mental health and enable employees to safely seek help when mental illness occurs;
Promote and enforce psychosocial risk assessment and risk prevention in the workplace in line with appropriate privacy and non-discriminatory legislation, with the adequate support of occupational health services in order to ensure that all enterprises have complied with their legal responsibilities;
Address stigma, discrimination, and misconceptions through the introduction of compulsory training for managers and employees in enterprises for better identification of mental ill-health and active promotion of workplace psychological health and safety; and
Raise greater awareness of the labour productivity losses due to mental health conditions by designing guidelines for managers and human resource professionals to encourage a better response to workers' mental health conditions and to offer advice on when and how to seek professional support, with due regard to personal privacy.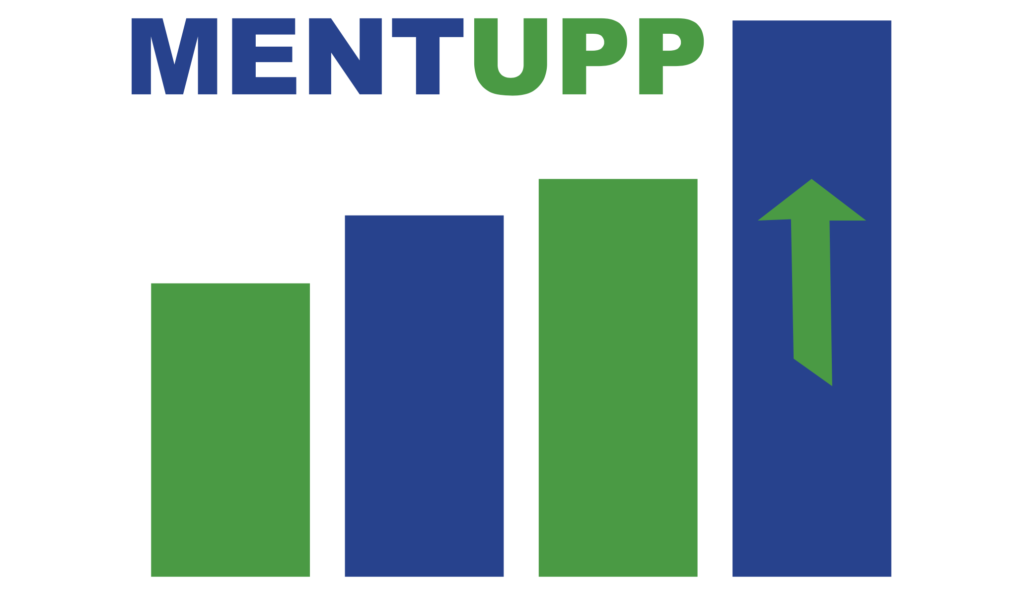 MENTUPP project I Mental Health Promotion in Occupational Settings – Improving mental health in the workplace: www.mentuppproject.eu
References:
OECD. Integrated Mental Health, Skills and Work Policy. OECD. [Internet]. 2018. [cited 2022 Aug 17]. Available from: https://www.oecd.org/els/emp/Flyer_MHW%20Council%20Recommendation.pdf
Cottini, E. and Lucifora, C., 2013. Mental Health and Working Conditions in Europe. ILR Review, 66(4), pp.958-988.
European Commission, Directorate-General for Internal Market, Industry, Entrepreneurship and SMEs. User guide to the SME Definition [Internet]. Available from: https://ec.europa.eu/regional_policy/sources/conferences/state-aid/sme/smedefinitionguide_en.pdf
Cohen, A. Addressing comorbidity between mental disorders and major noncommunicable diseases [Internet]. Who.int. [cited 2022 Sep 14]. Available from: https://apps.who.int/iris/bitstream/handle/10665/344119/9789289052535-eng.pdf?sequence=1&isAllowed=y
Eiroa-Orosa FJ, Lomascolo M, Tosas-Fernández A. Efficacy of an intervention to reduce stigma beliefs and attitudes among primary care and mental health professionals: Two cluster randomised-controlled trials. Int J Environ Res Public Health [Internet]. 2021;18(3):1214. Available from: http://dx.doi.org/10.3390/ijerph18031214
Nicolás ES. Revealed: Hit to EU mental health services during Covid-19 [Internet]. EUobserver. [cited 2022 Sep 14]. Available from: https://euobserver.com/health-and-society/150262
Gullestrup, J.; Lequertier, B.; Martin, G. MATES in Construction: Impact of a Multimodal, Community-Based Program for Suicide Prevention in the Construction Industry. Int. J. Environ. Res. Public Health 2011, 8, 4180-4196. https://doi.org/10.3390/ijerph8114180
Hogg B, Moreno-Alcázar A, Tóth MD, Serbanescu I, Aust B, Leduc C, et al. Supporting employees with mental illness and reducing mental illness-related stigma in the workplace: an expert survey. Eur Arch Psychiatry Clin Neurosci [Internet]. 2022; Available from: http://dx.doi.org/10.1007/s00406-022-01443-3
World Health Organization. Mental health policies and programmes in the workplace. [Internet]. 2005. Available from: https://www.who.int/mental_health/policy/services/13_policies%20programs%20in%20workplace_WEB_07.pdf