The digital transformation of the economy yields great opportunities but also presents challenges for European societies. Like previous phases of technological change, digitalisation is characterised by new skill requirements for employees, managers and job-seekers. At the same time, new ways must be found to impact – via teaching and workplace training – these in-demand skills.
The debate about the future of work has shifted away from the 'death of jobs' scenario to acknowledging that tasks will change within existing jobs along with job destruction and creation (Warhurst et al., 2019, p. 32). So, as new technologies are introduced into workplaces, workers will need new combinations of skills to perform these tasks. Understanding these skills is essential so that, at the very least, appropriate provision of education and training can be designed and delivered (Warhurst et al., 2019, p. 32). [1]
Within the debate, skills are not only considered as an enabler for the digitalisation. Rather, the World Economic Forum (WEF) (2020) has identified skills as the most important of bottlenecks for digitalisation. A company survey by the WEF found that 55% of companies identified "skill gaps in the local labour market" as the main barrier to digitalisation, while a lower level of only 32% saw "shortage of investment capital" as a barrier, in comparison (WEF, 2020, p. 35).
In this context, the work of the BEYOND4.0 project [2] can be understood as a contribution to skills intelligence in Europe. This means to come to informed decisions on skills based on identification, analysis, synthesis and presentation of quantitative and/or qualitative skills and labour market information (CEDEFOP, 2019). This process is usually based on a taxonomy of skills, which is done within BEYOND4.0 as a categorisation of skills which become or remain important for the digital transformation. The new framework developed in BEYOND4.0 was based on a systematic review of the literature reviewed the skills debate in the EU and OECD countries, as well as practical experience derived from the Blueprint projects for sectoral skills alliances (such as the European Skills Strategy and Alliances, ESSA [3]). A total of 59 reports from the European level (mainly the European Commission, Cedefop, and the ILO) and 48 reports from the international level (mainly the OECD), respectively, were reviewed (see Kohlgrüber et al., 2021).
The skills classification distinguishes between digital, non-digital transversal, and job-specific skills (see Figure 1). Digital skills are further classified as basic, moderate or advanced skills. Advanced digital skills are typically needed by workers in IT-specific occupations, but are increasingly required in other occupations. While many other non-IT specific occupations increasingly require moderate, rather than basic, digital skills. Significantly, however, digital skills will not suffice on their own. Social, methodological, personal and job-specific skills are also increasingly needed to work in digitalised work environments.
Jobs requiring more intensive digital skills also require a range of digital-complementary skills to perform new tasks associated with ICT usage, such as personal skills (e.g. adapt to change), methodological skills (e.g. problem-solving, creativity), social skills (e.g. teamwork, leadership) and job-specific skills (e.g. technical skills such as knowledge of production processes).
Figure 1: The BEYOND4.0 classification of skills for future work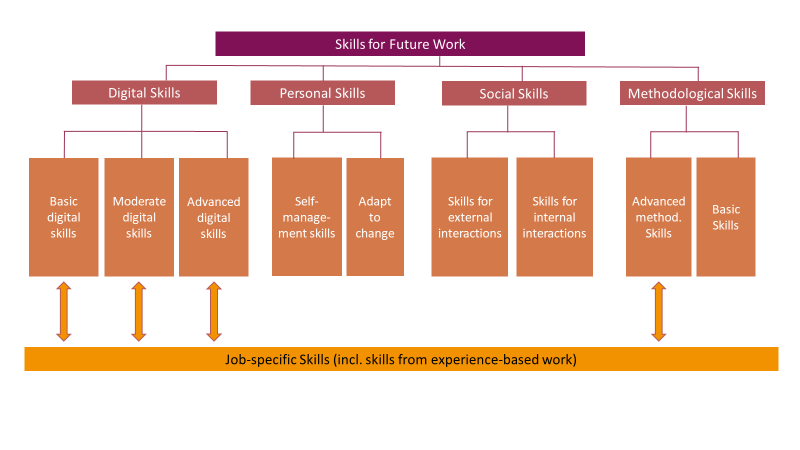 Crucially, however, the digital transformation requires not only single skill categories but also an interaction between different skill categories to complete job tasks (shown by the arrows between skill categories in Figure 1). The empirical findings of BEYOND4.0, based on qualitative research in 6 European regions and 2 sectors in each region, are strongly aligned with the insights derived from the literature reviews carried out in advance of the BEYOND4.0 empirical research (Behrend et al., 2022). What is largely new, however, is the realisation that these skills are not only needed individually, but that the interaction of skills is of considerable importance for digital transformation. This means that skills from at least two apparently separate skill categories are needed to perform a task, and so these different categories of skills must be combined with each other to be able to perform the task competently.
Therefore, BEYOND4.0 extends the skills debate by taking a novel approach that widens the analysis from a siloed approach that considers single skill categories to a more holistic approach that looks at the interaction of different skill categories. BEYOND4.0 identified digital plus skills as important for the digital transformation, such as digital plus job-specific skills (e.g. combining digital skills plus work experience on production processes), digital plus methodological skills (e.g. problem-solving based on big data) or digital plus social skills (e.g. teamworking and leadership skills for digital collaboration across and between different disciplines/professional groups).
The following table provides an overview of the key findings of this report, including gaps between skills demand and supply and recommendations about how to address such gaps.
Table-1-Key-findings

---

References
[1] https://beyond4-0.eu.
[2] Beyond 4.0 is a project that has received funding from the European Union's Horizon 2020 research and innovation programme under grant agreement No 822296.
[3] ESSA is a project has received funding from the European Union's Horizon 2020 research and innovation programme under grant agreement No 600886.