The resurfacing of technological alarmism
Recent years have seen an upsurge in the number of studies and media reports focusing on the impact of technological change and automation on jobs and the overall consequences of the so-called 4th Industrial Revolution. Not long before the recent coronavirus outbreak, popular fears about artificial intelligence (AI) algorithms and smart robots or machines resulting in a jobless future of work were widespread. With the ongoing Covid-19 health crisis, concerns about accentuating automation taking place in post-pandemic labour markets have also resurfaced.
Much of this automation concern has renewed interest in the old and recurring concern of 'technological alarmism', namely the belief that innovation fosters technological unemployment. The recently accelerating developments in artificial intelligence (machine and deep learning) algorithms, with their enhanced ability to efficiently learn from data and decouple patterns for undertaking both routine and relatively high-skilled tasks, have heightened this debate.
Disentangling the risk of job automation
Despite fears of rampant automation, recent studies have sought to analyse the job-destroying ability of digital technologies by deconstructing jobs according to their individual tasks or skill needs. Such analyses have revealed that the share of jobs that may be displaced by AI and machines is potentially much lower than originally predicted. Estimates tend to highlight that only about 1 in 10 jobs face a very high risk of automation. Nevertheless, they also point out that close to 2 in 5 jobs are likely to face significant job-task transformation, posing marked challenges for the upskilling or reskilling of those workers doing them.
These studies identify that core job-tasks susceptible to machine displacement are those that rely on highly codifiable information retrieval skills as well as routine, manual skills. By contrast, work activities that are relatively immutable to machine learning algorithms include those dependent on high socioemotional and interpersonal skills, managerial, problem-solving and critical thinking skills (Figure 1).
It is also found that the risk of automation is generally higher among lower-educated workers and medium- or low-skilled professions (e.g. assemblers, stationary plant and machine operators, electrical and electronic trades workers, drivers and mobile plant operators). The same holds for those employed in primary and secondary sector industries, in contrast to those working in social and personal services, education, health and cultural industries.
In addition to displacement effects, new technologies also create new tasks within occupations in which labour has a comparative advantage. And in general, technological progress renders some skills obsolete over time, whilst fostering new task creation. On balance, technological change tends to be associated with greater upskilling or reskilling investments by workers. A problem arises however in that the adjustment process may be sluggish. The speed of adjustment tends to be dependent on the degree of mismatch between the new job-skill requirements of advancing technologies and the skills of the existing workforce, which may lead to prolonged periods of joblessness of some workers in some industries, accentuating social strife.
The extent to which jobs may be taken over by machines in the future is also linked to the economic or business case of firms to invest in the substitution of capital for labour. Firms fostering a consultative management-workforce culture, whereby any introductions of new digital technologies takes place in a concerted fashion and in alignment with workers' training needs, is also critical.
Figure 1. Tasks of eu jobs at high risk of automation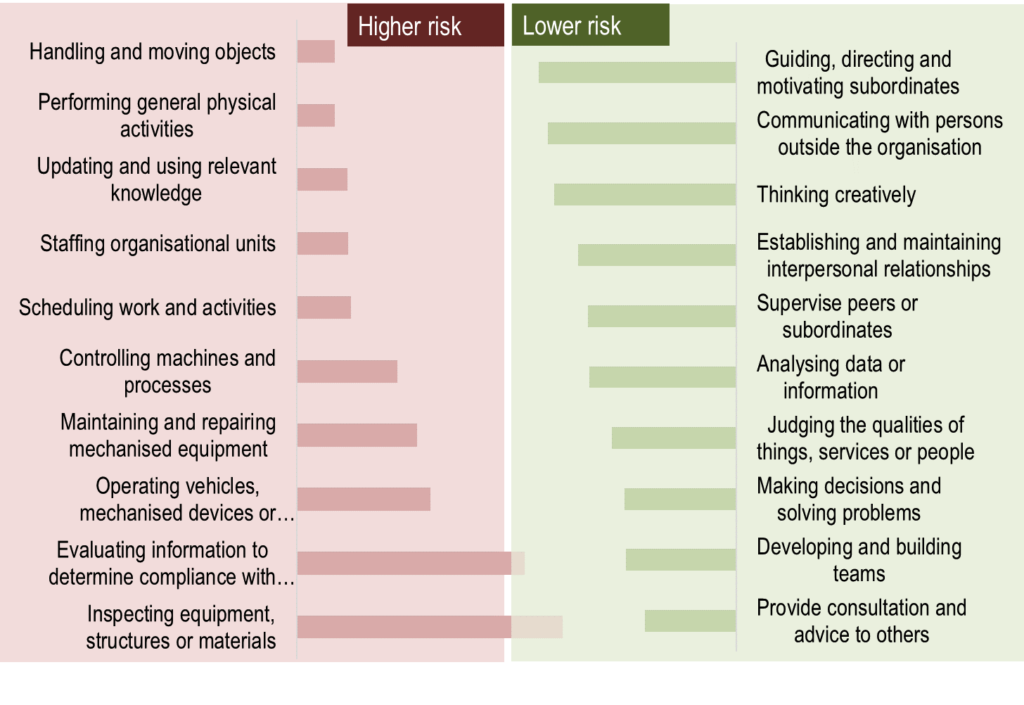 Source: Pouliakas (2021) using Cedefop online job advertisement data (Skills-OVATE)
Skilling up for the future of work
In addition to a need for proactive innovation, competition and employment policies, the future of work is dependent on the modernisation of education and lifelong learning systems. The design of 'robot proof' upskilling and reskilling programmes that focus on the development of new digital and technological literacies, systems thinking, skills related to the four C's (communication, collaboration, creativity and critical thinking) and overall human-machine empathy, is admittedly a safeguard for future generations of learners.
Looking ahead to the future world of work, the available evidence provides some reassurance that scaremongering is unwarranted when discussing the impact of new digital technologies on jobs. Nevertheless, individuals affected by changing technologies do experience greater job insecurity and some work routinisation and a non-trivial share of the working population may have long-drawn adverse consequences on their livelihoods.
At the same time, most advanced economies are struggling to sustain or raise their labour productivity levels, which is a sine qua non given their ageing societies. This highlights the significant challenge for policymakers who, on the one hand, will have to appropriately alleviate individuals' concerns about the job destroying properties of new digital technologies. While, on the other hand, they will have to simultaneously stress the critical role of AI technologies for elevating living standards and the need to invest in adaptive lifelong learning.
Will-AI-and-robots-automate-or-enrich-jobs

Konstantinos Pouliakas

Senior Expert, Department for Skills and Labour Market, European Centre for the Development of Vocational Training (Cedefop)